Welcome to the Specialty Leasing Department at the Mall at Stonecrest. Are you thinking about opening your own business, but don´t know what to do? Do you want to expand your business into the Mall at Stonecrest and wonder what is available? Read on to find out how you could be the next "Coming Soon" at the Mall at Stonecrest.
Contact Information:
Specialty Leasing
If you have a unique product or concept and would like to test it, the Mall at Stonecrest could be a good place to start your new enterprise. Even Fortune 500 companies have to start somewhere. The Mall at Stonecrest can help you get your new business venture started through our Specialty Leasing Program. License Agreements can be established for periods from single days up to one year. Contact the Specialty Leasing Manager for more details.
Donald Bieler, Director of Marketing and Specialty Leasing
678-526-9880
DBieler@urbanretail.com
Permanent Leasing
The Mall at Stonecrest offers unique long-term leasing options for restaurants, shops and entertainment uses with spaces available throughout the property. If you are interested in leasing long-term space for a restaurant, shop or other use, please contact our leasing agent at Urban Retail Properties, LLC.
Mary Youngblood, Senior Vice President, Leasing
561-394-3437
myoungblood@urbanretail.com
Benefits of being an entrepreneur:
You may have clicked on this page because you are a risk taker, independent in your thinking and want to be in business for yourself. Does that sound about right? If you answered yes, you are an entrepreneur and the Mall at Stonecrest is the place for you! Short term leasing or "Specialty" Leasing is a great way to test market a product with less of a time commitment, lower overhead costs and operating on an RMU (cart) means instant visibility to the shopper because your business is situated in the open common area.
Although the nature of opportunities within Specialty Leasing is temporary by nature; the possibility of long term success is absolutely within reach. "Healthy Hair Dimensions" a family operated hair care concept on an RMU has had great success! hey keep it simple: listen to their customer, offer great service and keep their prices affordable. One of the reasons having a business at the Mall at Stonecrest makes sense is based on its location and vast trade area that the super regional shopping center serves. Boasting four national department stores, a 16 screen AMC IMAX and over 120 specialty stores and restaurants, this is the place to shop, dine and play.
List of Opportunities:
Typically there is an array of Specialty Leasing opportunities available within a shopping center. Here are some examples:
Kiosk-the easiest definition of a kiosk is a retail unit of approximately 150-200 square feet. The distinct difference between this unit and an RMU (cart) is that you operate your business from inside of it. It is most often a stationary space located in the common area. This can be leased short term or permanent.
RMU-or Retail Merchandising Unit most commonly referred to as a Cart. It is approximately 50 square feet of retail space. You operate your business around it. It is typically mobile. RMUs by nature are leased on a temporary basis.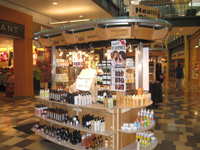 Inline space-also known as store space. The square footage of such space can range in size from small to large. Since inline space is something that the owner of a shopping center wants to have leased on a permanent basis, the availability can be varied. Your Agreement term can run month to month or on a specified short term basis.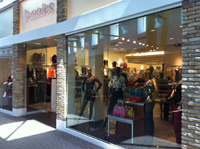 Specialty Leasing Application:
Click here for a Mall at Stonecrest Specialty Leasing Application.
For a Specialty Leasing Fact Sheet, please contact dbieler@urbanretail.com
Local small business resources: Specialty Leasing is a great opportunity for the entrepreneur. Below are some resources that can assist you in getting started.
www.americasmart.com
www.specialtyretail.com